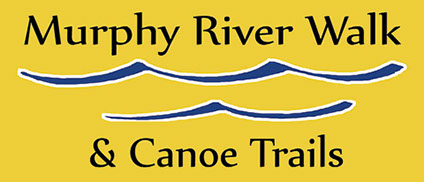 Discover the Murphy River Walk and Canoe Trails!
The approximate 3 miles of easy walking trails start
at the far end of Konehete Park along the Valley River,
and end at the Old L&N Depot by the Hiwassee River bridge.
Enjoy walking through Konehete Park then along the river past the historic Leach Place and the abandoned railroad trestle to the Historic L&N Depot. During much of the year, you can also enjoy the Rustic Loop along the Hiwassee River.
River Walk Trail Heads with parking and trail information can be found at:

Old L&N Depot, off Hiwassee Street
Konehete Park, off Valley River Avenue
Hilton Street, behind the Health Department
McClelland Street, between Tennessee and Hilton Streets
Brochures with the trail information are also available at the Tourist Information Office on Tennessee Street in town.
The Murphy River Walk & Canoe Trails is proudly sponsored by Heritage Partners.
Since its inception as a concept in 2002, the River Walk has come to be a model public and private partnership.
Thanks to our partners:
The TVA
The North Carolina Department of Transportation
Town of Murphy
Cherokee County/Konehete Park
The Cherokee County Tourism Development Authority
Hiawassee Watershed Coalition
Cherokee Preservation Foundation
The Dub & Murray Martin Trust for Cherokee & Clay Counties
Cherokee County Arts Council
And, most importantly, our Volunteer Project Manager, Johnny Strawn
and all the on-site volunteers who quietly make it all happen!
INTERESTED IN GIVING BACK AS A VALUED RIVER WALK VOLUNTEER?
Work days are scheduled at an "As Needed" basis.
To be added to our list of volunteers, please contact our Volunteer Coordinator:
Jim Sullivan
jws78@yahoo.com
828.837.9395
You can also go to our River Walk Facebook Page and "LIKE" us to keep up with all our activities!